LET'S TALK SAFETY AT A CONSTRUCTION SITE
LET'S TALK SAFETY AT A CONS...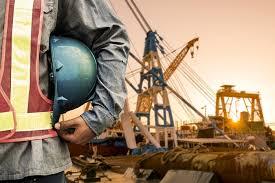 LET'S TALK SAFETY AT A CONSTRUCTION SITE
What's construction for starters? How do you stay safe on a construction site?

Construction is basically erecting a structure from the substructure to a super structure. When we want to look down to the stakeholders involved in the entire construction process right from the client to the architect and the related professionals, we realize everyone on the site ought to keep safe at all times and thus the need for the personal protection equipment.

The construction process will involve the setting out, foundation construction from the hard core, to the last layer of a foundation as well as erecting the walls, pillars and beams among others.

The people involved on the construction project involve and include both the formal and the informal /casual workers and they all require personal protection equipment for safety. The engineers, managers and supervisors all need to keep safe just like the carpenters, plumbers, builders and porters do.

What is construction site safety?

This is overtly the utmost care and pragmatic follow up to ensure that everyone on the construction site is very safe from accidents and any form of harm. This is enforced at the various construction sites using helmets and these should be worn at all times , safety glasses where workers are protected from debris in the air, high visibility vests which ensure that workers are easily identified.

Why is safety important at a construction site?

Construction comes with many hazards, employers and workers can minimize risks at the site. In doing so we prevent injuries and fatalities. Every stake holder that goes to a site be a manager, client, architect, civil engineer, builder among others loves to have a good life and safety is complementary to living a good life regardless of the risks involved in the work. The main. Contractor assures the client, architect and quantity surveyor of their authenticity and professionalism. This is most certainly seen in. The work they do but rather more in the safety of the workers through the availability of personal protective equipment.
Safety Work Method Statement.

The SWM statement is a document that helps guide you in your construction site safety at all times each time you have a construction project running. It should be prepared by the employer, the principal contractor or a more senior member of the team such as a site supervisor.

In your SMWs, you will need to outline which of your construction activities are classified as high
risk construction WORK ( HRCW), you will detail the possible risks and hazards that workers will
be dealing with on a daily basis.

Your SMWs will clearly explain in easy to understand terms how workers will control and manage the risks.
 Training workers prevents injury
This is supposed to happen during the induction process before workers start work officially at the construction site by the employer or site. Supervisor. This basically favors the people that comprehend the English language. However site work involves casual workers who may not be well versed with the English language thus the culturally and linguistically diverse workers. These may have to train them in their own language to help them ensure safety for every one on site.

Types of Hazards on a construction site

There are various kinds of Hazards on a construction site. Hazards are those things that cause harm to someone on a construction site.

Physical hazards. These include slips, falls, trips, exposure to loud noises, working from heights, vibrations and unguarded machinery.

Ergonomic hazards. Every occupation places certain strains on a workers body. These occur as a result of physical factors that can harm the musculoskeletal system.

● Repetitive motion
● Poor lighting
● Awkward motion
● Poor posture

Chemical hazards. These ones are present any time workers are exposed to chemical substances such as cleaning solutions and solutions, vapors and fumes such as carbon monoxide and other gases.

RISKS AND HAZARDS ON SITE AND HOW TO USE PERSONAL PROTECTIVE
EQUIPMENT AGAINST THEM

● Slips, falls and trips, these hazards can be curb with the use of safety belts incase of
climbing activities and rough gloves.
● Noise, Ear protectors such as ear plugs could be used to control the unnecessary noise
from cranes and other hitting.
● Material and manual handling, this involves the lifting of items on a construction site
and the use of gloves and wheelbarrows.
● Collapsing trenches, These should find a worker at least well equipped with safety
boots and helmets.
● Electricity, rubber insulator gloves and boots.
● Asbestos, full attire of gloves, masks, ear guards, overall, safety glasses and boots so
as to avoid inhaling the poisonous asbestos fumes.

Workers at a construction site with the various helmet colors

When you visit a construction site you will find workers and supervisors putting on helmets as part of the personal protection equipment. These helmets however have various colors and they represent different people on the site as follows below,

White, this is usually put on by the site managers
Black, this is put on by the site supervisor
Orange, slingers and signalers.
Blue, Site visitors and porters
Green, safety inspectors and new workers
Yellow, General laborers

Causes of common accidents on a construction site

Exposure of nails and broken bottles or any wedge like item that can cause cuts and pierces. This could be very susceptible to people who are not using safety boots.

Negligence of the contractor and supervisors as well as workers could be a cause of some of the common accidents that occur at construction sites for instance not using scaffolding among others.

Use of wrong construction tools could be a another cause of accidents for instance the use of ladders instead of scaffolding

Not following instructions especially by stubborn workers workers who either missed or don't follow the instructions given during induction

Practices To Improve on safety at a construction site

Scaffolding. These are equipment or structures used to access higher heights . Fall hazards can occur if scaffolds are not used properly.

Fall protection. Aerial lifts can be used to provide safer working spaces for elevated surfaces.

Excavations. Never enter a trench that is unprotected with like sheeting's on the sides of the trench to curb collapsing.

Ladders. Avoid placing ladders that have metallic components that bear electric lines or power stations.

Head protection. Use safety net systems or body harnesses.

Hazard communication. Make information accessible to all employees at all times in the languages that are most compressive to all.

Electrical. Check all the electrical devices available at the site regularly for defects.

Personal protection equipment plays a prominent role in ensuring overall health and safety on construction sites. Different surveys indicate that PPE is often not worn by workers on construction sites in Uganda which undermines their general health and safety leading to different types of injuries.